Using strengths-based approaches, I want to help you recognize your own wisdom, skills, and resilience in your life's journey. Mindful of incorporating evidence-based practices to facilitate healing, I offer a highly personalized approach tailored to meet your needs. By creating an empathic space, my hope is to help you begin your journey of exploration and discovery as you develop new skills and learn new ways to see yourself, others, and the world on your path to realizing your full potential.
Providing individual therapy for individuals 25 years and older, including older adults (65+) and veterans.
Treatment specialization includes: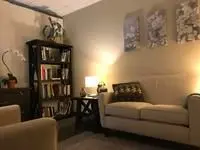 Trauma-Informed Care
Therapy for Anxiety
Somatic Experiencing for Trauma
EMDR for PTSD
Interventions for Chronic Pain
New Health Diagnoses and Chronic Illnesses
Treatment for Insomnia
Grief Counseling
Weight Management
Please note: Dr. Keaveny does not provide documentation for disability claims or assessments for disability. Dr. Keaveny is also unable to provide doctor's excuses for missing work or school.